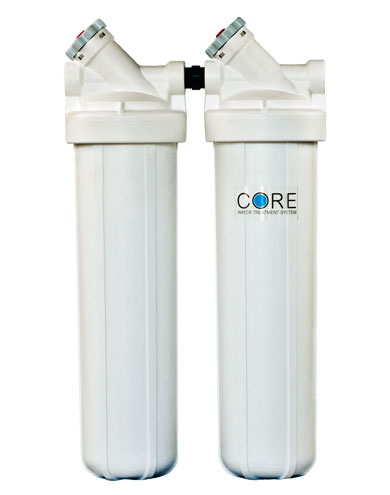 Dual Core Water Treatment System
This multi-function combines a whole home chemical free conditioning media with activated carbon to reduces scale buildup in plumbing, fixtures and appliances by inhibiting scale causing minerals ability to cling to surfaces. The Core Water Treatment System also removes up to 99% of chlorine and filters sediment down to 20 microns.
The Dual Core Water Treatment System™ combines the durability of a Pentek® housing with the simplicity of a replaceable cartridge.
The versatile Dual Core Water Treatment System™ comes in multiple configurations depending on the size of your home and the quality of your water. A Core Water Treatment System can protect your family and your home from poor quality water.
Whole Home Chemical Free Conditioning and Filtration
The Dual Core Water Treatment System™ provides whole home filtration and greatly reduces hard water buildup. The Dual Core Water Treatment System's easy to replace cartridge protects plumbing, fixtures, and appliances by trapping scale causing minerals in its proprietary media. The Core also improves taste and odor by removing chlorine and organic contaminants. The proprietary media inside each cartridge also removes sediment down to 5 microns, resulting in cleaner, clearer drinking water. In addition the Dual Core Water Treatment System forms a protective layer on pipes and fixtures to protect against acidity/alkalinity, hardness, chloride and other factors that cause corrosion. As an added benefit, dissolved iron is trapped to help prevent staining and discoloration. Finally, the Dual Core features a specialty media that removes heavy metals and controls the growth of bacteria and algae.
Removes sediment down to 20 microns
Removes taste and odor caused by chlorine and organic
Prevents hard water buildup on plumbing, fixtures and appliances
No wasted water
No electricity
No chemicals
No need to buy and haul salt
Safe for the environment
Reduces amount of time spent cleaning
Simple to change Core cartridges
Keeps clothes in good condition
Saves money on detergents
Does not effect the pH of water